Sod Installation and Care
So you're renovating your lawn; starting new, adding too, or replacing. You have options to consider. Most contractors will try to sell hyrdoseeding as a viable option. Traditionalists will plant a lawn using seed and straw mulch. However a third option that is usually left unsaid here in the northeast is sod. I've only had the opportunity to install a handful of sod lawns over the years. However, having grown up in southwest Florida where sod is the only way to a lawn I wish it were more popular here. After installing sod on a small project in Portsmouth last week I thought I'd share.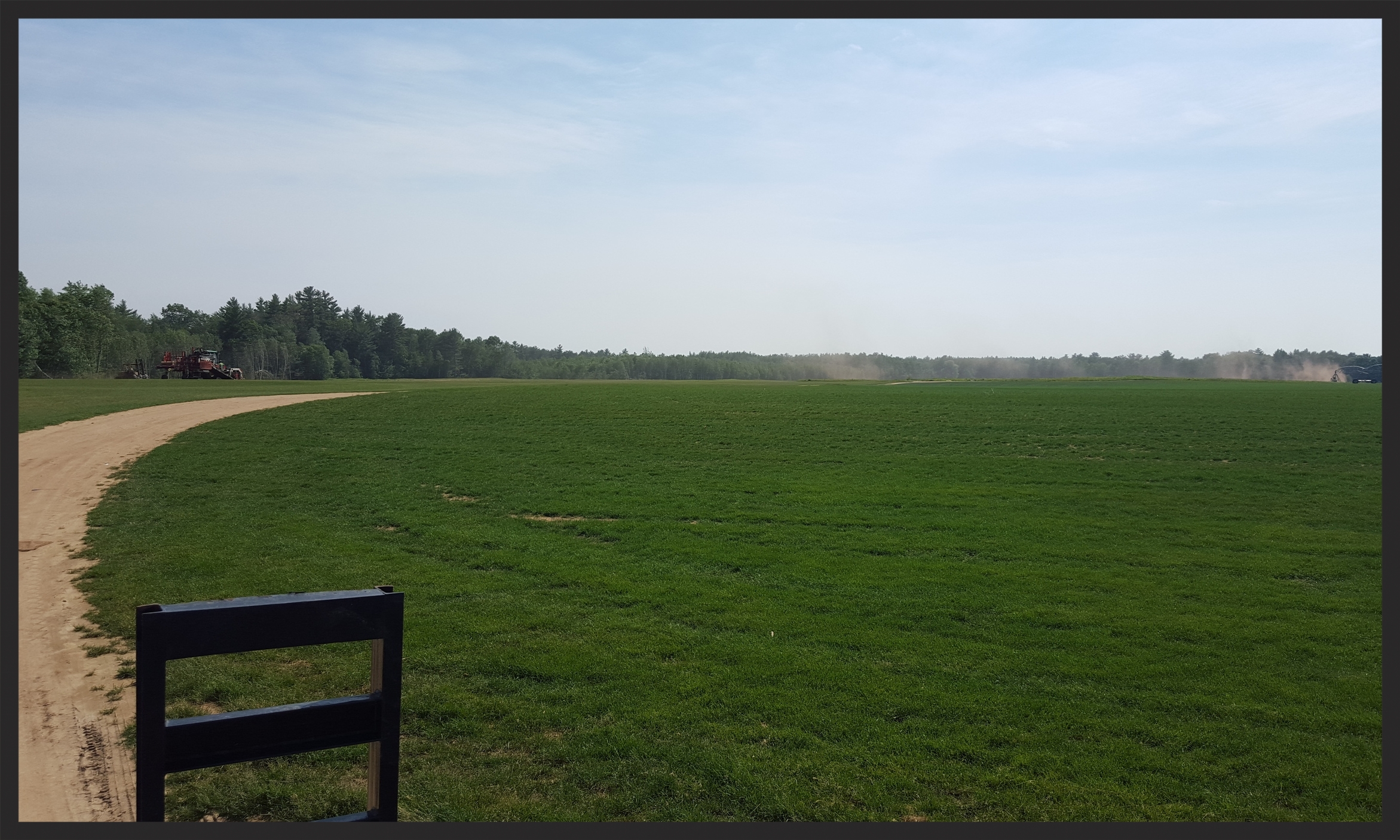 The first challenge sod presents is logistical. Sod is cut to order and it's shelf life isn't much more than 24 hours. (Stay away from big box sod!) During the busy season orders need to be placed weeks in advance. In quieter months you can call an order in a few days before it can be delivered. If you have the capacity to pick up the sod yourself (as shown in the pictures above) you should call the day before to get on their schedule for cutting.
The Process - abridged version
Sod is cut from fields where it is grown from seed and meticulously cared for. It is cut using a tractor driven machine as shown above. The cutting machine can cut, roll and stack 500 square feet of sod in a matter of minutes. A forklift carries the pallet of sod from the field to be loaded onto the trailer.
One pallet of sod equals 500 square feet cut into 50 rolls
Always order extra. As with any automated system, the sod cutter is not perfect and often makes mistakes.
Transport
For large projects, sod is delivered via tractor trailer truck. Each pallet can be unloaded and set adjacent to the area it is to be installed. For smaller projects like my Portsmouth job, it's easiest to work from the trailer. It is important to install the sod as soon as possible. As sod sits rolled up it begins to generate heat and heat initiates the breakdown and decay of the sod
The goal is to keep it alive!
Installation
Preparation is key, just like any landscaping task, but we're going to skip over that and focus on the green stuff. Begin by staggering your joints. The weakest link in the sod system is the joints. Once the joints dry out the grass begins to die. Have you ever seen a sod lawn installed and weeks later it looks like green squares with brown grid lines? The less time the sod spends rolled up the less likely it is to hold onto its rounded shape. As you unroll the sod you may need to roll the edges in the opposite direction to get them to lay flat and butt together evenly. This is where a sod roller can be helpful. I choose to use another method which I will explain shortly.
Cutting
Sod needs to be cut to fit your lawn. If you choose the longest straight run to roll out your sod your cutting will be less. Many tools can be used for cutting but there is no tool specifically for this task. I've had success using a spade shovel, machete and garden edger. However my newly discovered tool of choice for cutting sod is the Hori Hori Knife.
Watering
Once the sod is laid out water the ever-living hell out of it! I've found soaking the sod as it's laid out helps it to form to the soil below. As the sod saturates you'll see any joints that aren't quite right. When the sod is wet it can be stretched and flattened. As it dries slowly it will stay in place. When you prepared your soil for sod you should have amended your soil and fertilized with a root stimulator. A heavy watering will activate the fertilizer and encourage the roots to make their new home.
Care
Sod is instant gratification. Sod is not instant lawn. While sod looks great the day it's installed it takes just as much care and attention to ensure it establishes over the coming weeks as any new planting.
Water two to three times daily in the first week
The key is to keep the joints moist
Keep traffic to a minimum
Do not mow until the lawn can support a mower - usually 3 to 4 weeks
Do not try to repair or correct any damaged areas until the lawn has established - unless the sod is failing, in which case take appropriate action immediately
Do not apply fertilizer, herbicide or pesticide to sod lawns until after the fourth mowing - exception being starter fertilizer
Inspect periodically, especially after a heavy rain event
Why we don't see more sod installations in the Northeast
The best applications for sod are small flat areas or areas easy to manage and irrigate. Our cool weather grasses grow best in spring and fall while they're often dormant in the hot summer months. Cool weather grasses rely on their soils for nutrients and water. Top dressing is becoming all the more popular as we become more aware of our lawns needs. [Top dressing is a method of covering the lawn with soil to prepare it for the next growing season - more to come in a later post.] Establishing a new root system takes a lot of energy and effort by the plants themselves and that translates to stress. Hot weather grasses have root systems that are actually above the soil so they can grow on virtually any medium. We used to to see sod that had fallen off of trucks growing on roads and sidewalks. Florida sod needs only water and nitrogen; water comes frequently in FL and nitrogen can be absorbed from the air. Here in NH a healthy lawn starts with healthy roots. When sod is cut the roots are sheared off and left to die in the field. The rolls that are installed have very small roots that need our help to find the soil. So while sod is a very attractive option it is very care intensive in it's establishment. My advice to you is to consider your capacity for lawn care. If you feel you're up for the task of installing and or maintaining a sod lawn, by all means - enjoy!
When compared to hydroseeding, the cost of sod before installation is more than double. I will argue that the product you get from sod is worth more than double that of hydroseed. Conventional seed and mulch can cost anywhere from $0.05per square foot when installing it yourself to $0.15 per square foot when professionally installed. Consider these to be installed over prepared soils but to include an application of starter fertilizer and lime. With a sod installation you can expect to pay $0.35 per square foot for just the sod before delivery. Installation and delivery will vary based on the project.
What you can expect to get out of your lawn is equal to the time you put into it.